Glacier Bay is one of the most logistically difficult parks to visit. You have to fly, or take a boat. This was a bit easier in Lake Clark and Katmai, because you can simply hop on a plane at the Anchorage airport and be there in several hours. Glacier Bay forces you to route through Juneau, Alaska. Juneau is the capital of the state, but also incredibly difficult to get to. You cannot drive there because mountains and a 900 square mile ice field surround it. You have a couple of options; you could fly from Anchorage to Juneau and then to Gustavus, near Glacier Bay. Or you could drive down to Haines or Skagway, Alaska and take the Alaska Marine Highway, aka 'the ferry' to Juneau, where you could either fly or take a boat to Glacier Bay. Being that we had to drive back down through Canada anyways, we opted to drive to Haines, ferry to Juneau and then take a boat. Part of the other complication with this type of travel is that you have to plan ahead a fair amount to make sure that you both have a spot on the ferry and that your driving gets you to the town in time. The ferry only runs on specific days of the week, so you can't just show up and expect to get immediate service.


Luckily, I had experience with the Alaskan Marine Highway. My mom and step-dad have lived in Juneau, Alaska since I was 8-years old, so after many summer trips I have had a fair share of time on the ferry.

We made our way from McCarthy in Wrangell St. Elias National Park to Haines Junction in the Yukon Territory, Canada where we camped at Kulane National Park for a night. We had to wake up early so that we could make the one hundred and fifty mile drive to Haines in time to catch the ferry. I was actually somewhat familiar with this stretch of road. Every June there is a bike race from Haines Junction to Haines. It's an eight-stage race, where teams are composed of 1, 2, 4, or 8 cyclists. They each bike their part, end in Haines and celebrate the accomplishment. My mom and step-dad had done the bike race numerous times and I had been in attendance on at least two of those occasions.


We got to Haines and it was typical Southeast Alaska weather, drizzly. We weren't taking the car with us, so we had to pack our bags for the trip. We parked under a gas station awning and began unloading the things we needed to put them into our backpacks. We got it all ready and then parked at the ferry terminal while we waited for when we could board. If you haven't been on a ferry it is actually quite fun. We sat in the galley loaded up on biscuits and gravy while the boat prepared to disembark. The best part of riding on a boat is the smooth ride and the scenery. There is something about going through water in a massive boat. As long as there aren't monster waves it rides really smoothly. Combine that with the passing Alaska landscape and we were in a pretty good place.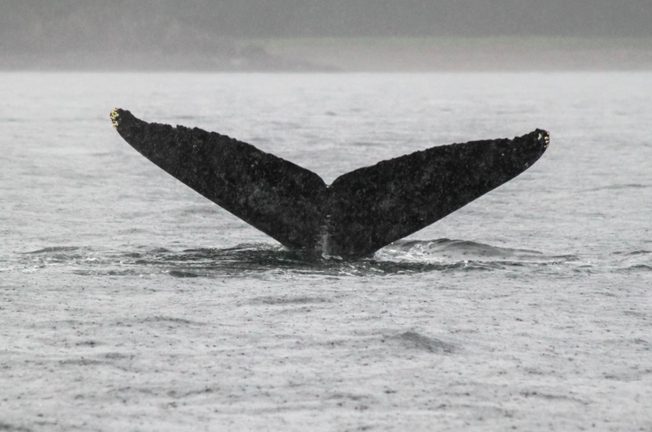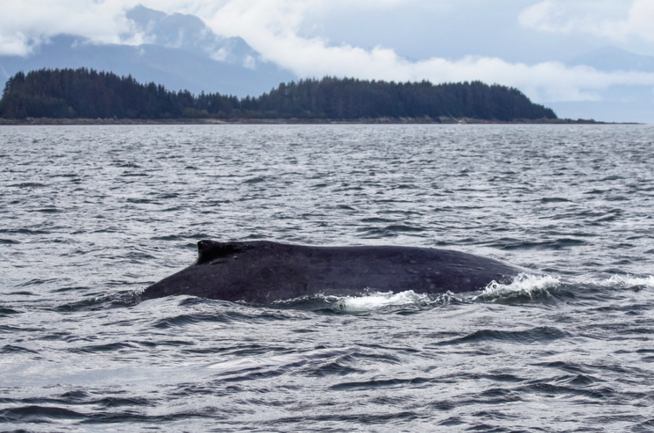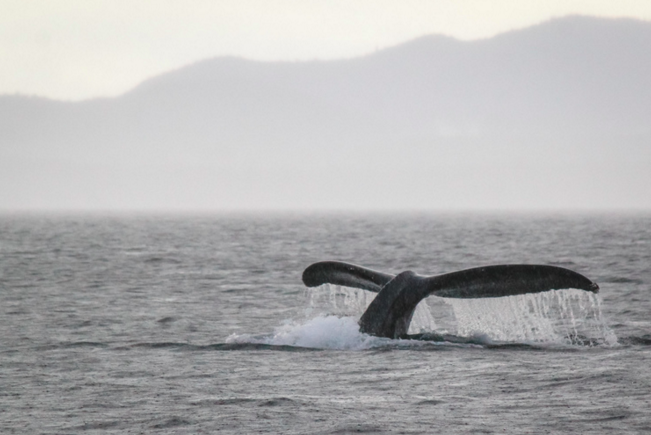 Occasionally, the captain would call out on the loudspeaker 'humpback whale on the port (left) side'. This is how you distinguish tourists from locals. The locals hear this over the loudspeaker and continue reading their book, drinking their coffee and fail to make any moves that would suggest that they had even heard the announcement. The tourists though all hop up. They look back and forth, first at each other, then at the sides of the boat. Which way is port? Which is starboard? Then they quickly walk outside and stand, waiting, watching and hoping that the whale will spout again. It's a funny sight to see, because neither group is aware that their reaction is quite strange. The locals are so disinterested they look like a hipster hearing about a McDonald's being built in Brooklyn. The tourists are akin to 6-year olds that are about to be released to recess.

We arrived in Juneau and met up with Kim and Tracy, my mom and step-dad. They have lived in Juneau since 1993, so know the town rather well. Juneau is odd, because it only has 40-50 miles of paved roads. It's geographically isolated, yet still the capital of Alaska. It's split up between three significant parts, Douglas, Downtown and the Valley. Douglas Island is across the bridge from Juneau, but is essentially the same town. Downtown is next to the cruise ship harbor and is super touristy, bars, restaurants, t-shirt shops and a tram to take the old and infirm to the top of Mount Roberts. The valley is the Mendenhall Valley and is about 20-minutes from downtown and features the ferry terminal and the University of Alaska - Southeast. It's not that different, just a place where lots of people live. My mom and step-dad though, live downtown.

My step-dad is a retired high school teacher and spends his time commercial fishing. My mom is a retired government employee and used to work for National Oceanic Atmospheric Administration (NOAA) writing regulations to prevent the by-catch of short-tailed albatross, an endangered species. By-catch is when someone catches something that they didn't intend to while commercial fishing. For example, sometimes tuna fisherman will catch dolphins; a dolphin would be by-catch, because it was not the intended target of the commercial fishing boat. When massive commercial fishing boats put their lines into the water they have hundreds and thousands of baited hooks. This, of course, is a feeding frenzy for hungry sea birds. There is a problem though, fisherman don't want the birds to take the bait because it decreases their opportunity to catch fish. Additionally, when the birds do get the bait, they also could catch the hook and be pulled under water where they would drown. Fisherman have a major incentive to figure out how to scare off the birds so that they don't steal their bait, additionally there are regulations in place to help prevent and decrease these instances from happening.

The Good News is my step-dad's boat and he offered to take us to Glacier Bay in it. He is a power troller, which I will explain in another post. Most commercial fishing boats do not go super fast, we would cruise at around 8-10 knots.

When I was younger I spent my summers working with my step-dad and taking clients our to go sportfishing for salmon and halibut on four or eight hour charters. One or two months of my summer would be spent fishing for the day. I knew the waters around the Juneau area fairly well, not the depths or how to navigate in tricky areas. I just recognized the islands, and different spots. When we took the boat out it was like my brain was re-experiencing my times being in the boat. So many different memories of being on the boat flooded back into my head. Many of them were wildlife related. They revolved around the different locations and things that I had seen Bald Eagles, humpback whales and orcas do. It was kind of weird, because I would remember specific spots where we saw whales breach, or another place where they were bubble net feedings, or even the one time we saw a humpback playing around and swimming around upside down with his flippers above the water as our two clients ignored the whale and refused to be distracted from their fishing rods…everyone knows that fish only bite when you aren't looking at your rod. The other thing that flooded into my brain was locations, south Shelter Island, Hand Trollers Cove, Point Retreat. They were all places that we had fished, and I remembered them well. It took us some time in the slow boat, but we took it all the way to Glacier Bay!