The Glacier Bay visitor's center as in Bartlett Cove. Like most places there is a place to park your vehicle. We happened to be in a boat, so we just pulled up to the dock and disembarked to check out the visitor's center. I got the down low from the ranger about sites to see. He clued me in about the glaciers that were calving. (Calving is when ice falls off of an iceberg of a glacier, usually you can hear a lot of cracking, and the ice falls off to create massive waves, it's supposed to be quite cool) The ranger also let me know about where you could see seals, sea lions, otters, puffins and other sea birds. There had also been sighting of wolves recently, so he directed me on the map to where we could cruise around for the chance to see them.

We had come at either the most perfect, or the absolute worst time to visit Glacier Bay. The concessionaires were all closed for the season. Glacier Bay Lodge was closed, there was nowhere to rent kayaks. Usually you needed a permit to take a boat into the bay, but we had arrived at a time when it wasn't necessary. It's like arriving at a playground when no one else is there. I was excited. We could swing by the island, see all of the sea creatures, get a chance to observe some more wild wolves and then see the glaciers for which Glacier Bay National Park is named.

We went on a quick hike around the area to check out the campground. The surrounding area was incredibly lush and beautiful.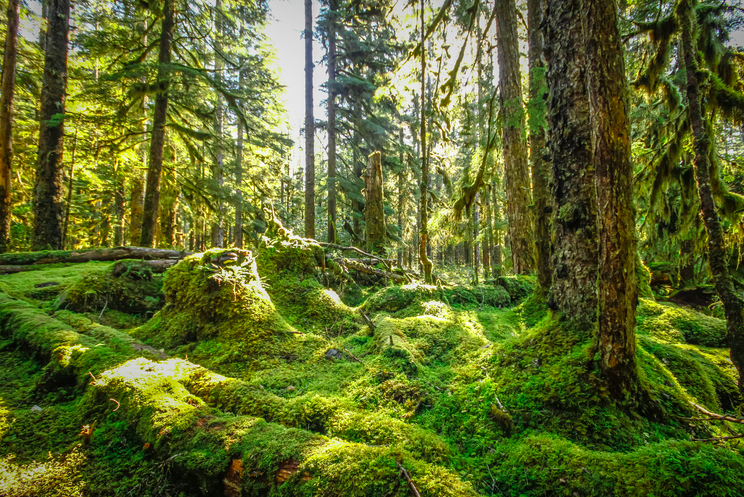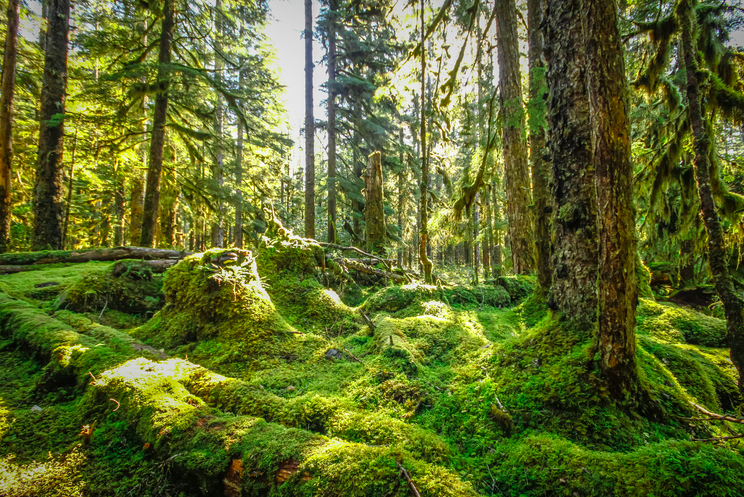 We drove up the bay as the sun was setting and dozens otters were playing in the water. Whenever the boat would get within twenty-five yards they would look at us and then quickly dive into the water. It was incredibly difficult to capture a photo with an iPhone. You had to use digital zoom on a moving boat, if you did catch a picture it was often so blurry that the otter was indistinguishable from seaweed, I need a camera…with a zoom. We parked the boat in a cove that was rather close to the wildlife filled island.

My step-dad had nixed the plan to drive up and see the glaciers; he said it was too far and that we had to get back to Juneau to avoid an incoming storm. I hoped that we could see the island and all of the wildlife in the morning. As we parked the boat I did my usual shoreline scan with binoculars. It's often one of the best ways to see wildlife. You just slowly scan the beach for big brown furry things and watch the bear from a safe distance, no such luck tonight!

We made another attempt to see the northern lights and were again thwarted. There was a hazy green on the horizon, but it looked more like a cloud and less like lights dancing across the sky. I woke up shortly after 6am to a warm cabin and a moving boat. We were just passing the Bartlett Cove visitor's center when I woke up. What? What about the wildlife? What about the seals, sea lions, otters, puffins, and the possibility to see a wolf? Our trip into Glacier Bay ended just as quickly as we started. My step-dad said that we needed to leave because of weather, so we fished for 4 hours and stayed in a protected bay before heading back the next day after fishing for another 4-6 hours. I'll have to go back to Glacier Bay and do it properly during the season. Rent a kayak, load it full of gear and traipse around while avoiding bears and icebergs. Next time.